Written by: Denise Tipton-  Connect with Denise through the Museum contact form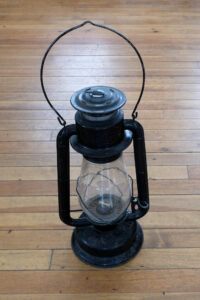 Imagine no lights, no tv, no internet, no coffee maker to start the day.
Evenings spent in the soft glow of an oil lamp and a kerosene lamp to light the barn.
This kerosene lantern collected by the South Frontenac Museum was manufactured by Beacon and guaranteed wind proof for use outdoors. The lantern shows the BEACON name plate on the chimney. One side of the fount is embossed with GSW Quality, the other Guaranteed Wind Proof. Beacon lamps were first introduced in 1911 by Sheet Metal Products Co. Early Beacon lamps show SMP on their founts. General Steel Ware was created in October 1927 with the merger of Sheet Metal Products, The McClary Mfg. Co., The A. Aubry et fils Limitée, and the The Happy Thought Foundry Co.  GSW ended production of the Beacon in the 1960s, ending over 50 years of the Beacon lantern name.
Before the appearance of kerosene as a fuel for lamps, different oils and candles were used to light the homes of families.
It was Canadian physicist and geologist Abraham Gesner who developed a process to extract and distill an inflammable liquid from asphalt, a waxy petroleum mixture. In 1853, he named the lamp oil that he perfected "kerosene", a term derived from the Greek word for wax. Today kerosene is primarily used as a heating oil, as fuel in jet engines, and as a solvent for insecticide sprays.
Life was very different in South Frontenac before electricity was available.  Major projects such as road and rail construction relied on the manual labour of workers. Farm, mining and mill equipment ran on horse power, steam and gasoline. Villagers left lights in their windows and hung lanterns on porches to help light the streets at night.  Larger cities used oil lamps along streets. Lamplighters were hired to lite the lamps at dusk and return at dawn to put them out. In Kingston, the Kingston Gas Light Company began operation in 1848. The company advertised "GAS" as "THE MODERN FUEL". Gas pipes and lamps were still used there until 1947.
Villages in Frontenac County didn't want to be left in the dark. Communities help fund raisers to pay for the installation of gas lamps on main streets. With the advent of electrical lighting, people began to use lamps less and less but in some rural places they were in use until the 1940s when power lines were finally built along the highways and rural roads.
Over time lights have changed quite a bit. From torches to candles, oil and gas lamps, incandescent bulbs and now LED. From gas to hydro, coal and nuclear generated electricity to solar and wind generation. You need only flick a switch to see how innovations are changing our way of life in small ways everyday.
For more information:
https://en.wikipedia.org/wiki/Kerosene_lamp
https://www.historymuseum.ca/collections/artifact/133307/
https://mypeculiarhobbies.wordpress.com/2017/12/01/canadian-gsw-beacon-lantern-restoration-part-1/
http://www.historyoflamps.com/lamp-history/history-of-kerosene-lamp/
http://www.canadianpetroleumhalloffame.ca/abraham-gesner.html
http://www.madehow.com/Volume-7/Kerosene.html
https://money.howstuffworks.com/10-extinct-job-titles6.htm
https://www.intriguing-history.com/gas-lights-lamplighters/