Written by: Doug Lovegrove – Connect with Doug through the Museum contact form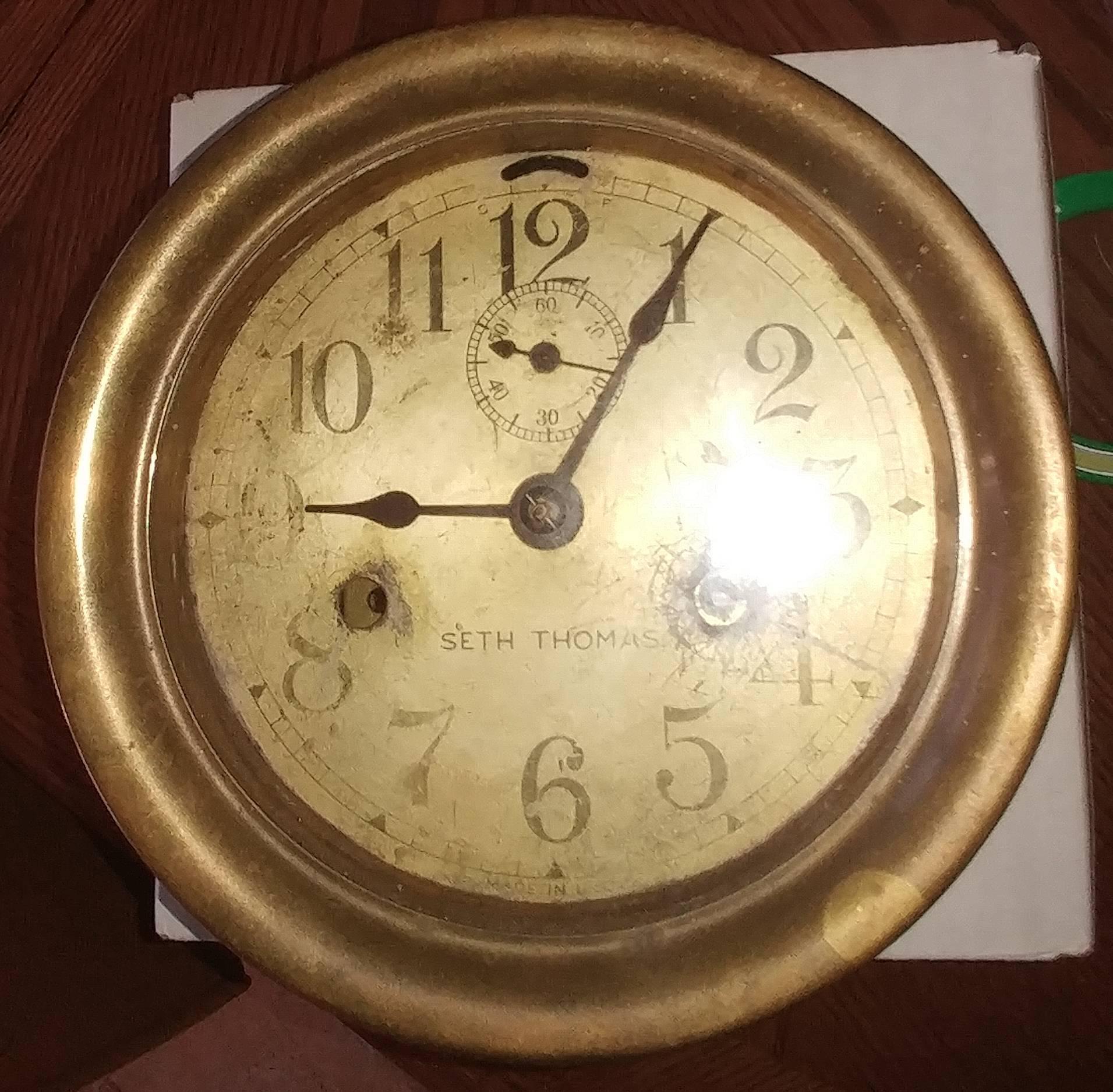 104 years ago, 6 December 1917, Belgian relief vessel Imo was leaving Halifax Harbour on its way to New York. French munitions ship Mont Blanc was entering the harbour to wait for a convoy. Because of a miscommunication, the two ships collided at 8:45 am. The munitions ship was carrying picric acid, gun cotton, and TNT. Her top deck carried benzol which spilled and caught fire. The captain and crew of the Mont Blanc abandoned ship in lifeboats for the Dartmouth shore, allowing the ship to drift towards Pier 6. The Mont Blanc rammed Pier 6, setting its wood pilings on fire. Just after 9:04 am, the Mont-Blanc exploded. The blast and the resulting tsunami, which surged approximately 18 metres above the high-water mark, pressed some three blocks into the city. More than 1,600 buildings were destroyed by the wave, and debris was scattered for several miles. Nearly 2,000 people died, another 9,000 were maimed or blinded, and more than 25,000 were left without adequate shelter.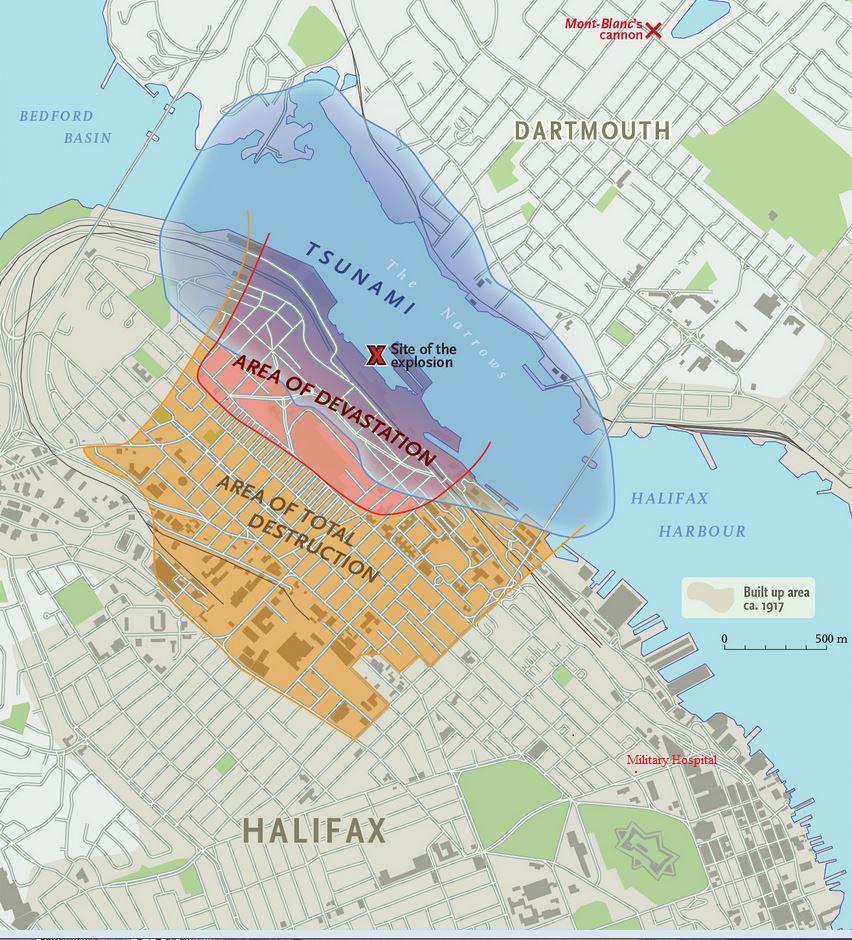 A Seth Thomas brass ships clock, from the Mont Blanc, was thrown approximately two and a half km southeast and landed behind the Garrison Military Hospital on Cogswell St. It ceased working at the moment of its destruction.
size 7" x 4"h
weighing 3.25 pounds, secured by 3 screws to bulkhead.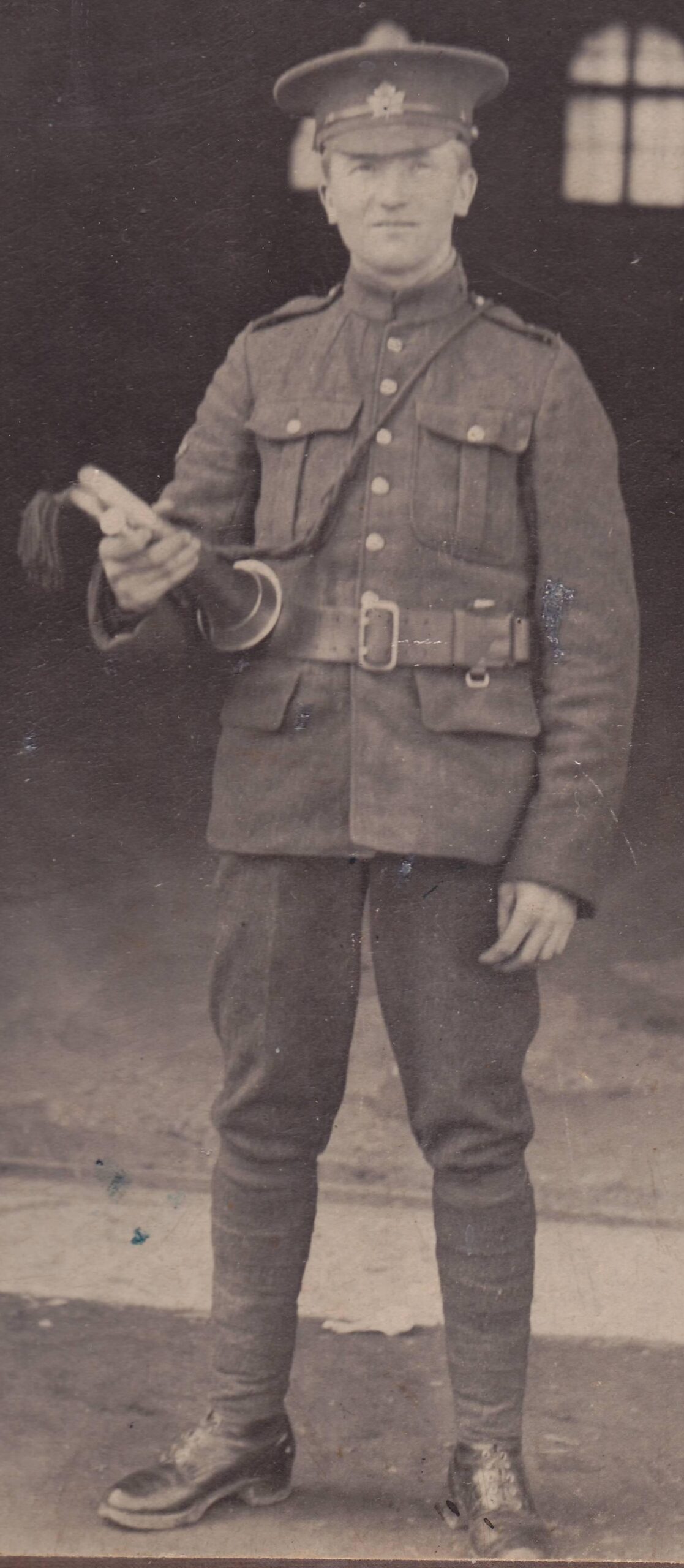 The clock was found by Pte Charles Hefford, a patient recovering from a leg amputation. He was at the rear (southeast side) of the hospital at the time of explosion. The north end was badly damaged from the blast. He managed to make his way out of the south end and found the clock.
Pte Charles Hefford 835534
He was born in London, England on June 9th 1896 and lived in Stella on Amherst Island, where he worked as a Farmer.
He joined the 146th battalion on Feb 1, 1916 at the age of 18, in Kingston, Ontario.
He sailed from Halifax, Nova Scotia on SS Southland which departed 26 Sep 1916 and arrived in Liverpool, England, 6 Oct 1916.
He transferred to the 95th Battalion on 6 Oct 1916, then on 24 Jan 1917, was transferred to the 5th Reserve Battalion.
On 10 May 1917, he was transferred to the 20th battalion. On the 15th Aug 1917, he was wounded (gun shot wound, right leg, fractured) on (probably Hill 70: Aug. 15-25, 1917), taken by 4 Canadian Field Ambulance to No. 6 CCCS (Canadian Casualty Clearing Station), then on 16 Aug 1917, was taken to 1st South African General Hospital, Abbeville, France.
He was sent 20 Aug 1917 via Hospital Ship Grantully to 1st Central Ontario Depot, Shorncliffe, England and transferred on 22 Aug 1917 to Royal Salop Infirmary, Shrewsbury, England where his right lower leg was amputated.
On 17 Oct 1917, he was transferred to No. 5 Canadian Military Hospital, Kirkdale, Liverpool and was invalided and returned via Hospital Ship Araguaya to Canada, 19 Nov 1917 arriving Halifax 28 Nov 1917.
A medical board (to determine his fitness) was held in Halifax, 30 Nov 1917, and on 6 Dec 1917, he was sent to the Military Orthopaedic Hospital in Toronto. He was posted to Casualty Co. 11 July 1918. He was discharged 26 July 1918 as physically unfit and returned to Kingston, 10 Lower Rideau St. (22 months of Service)