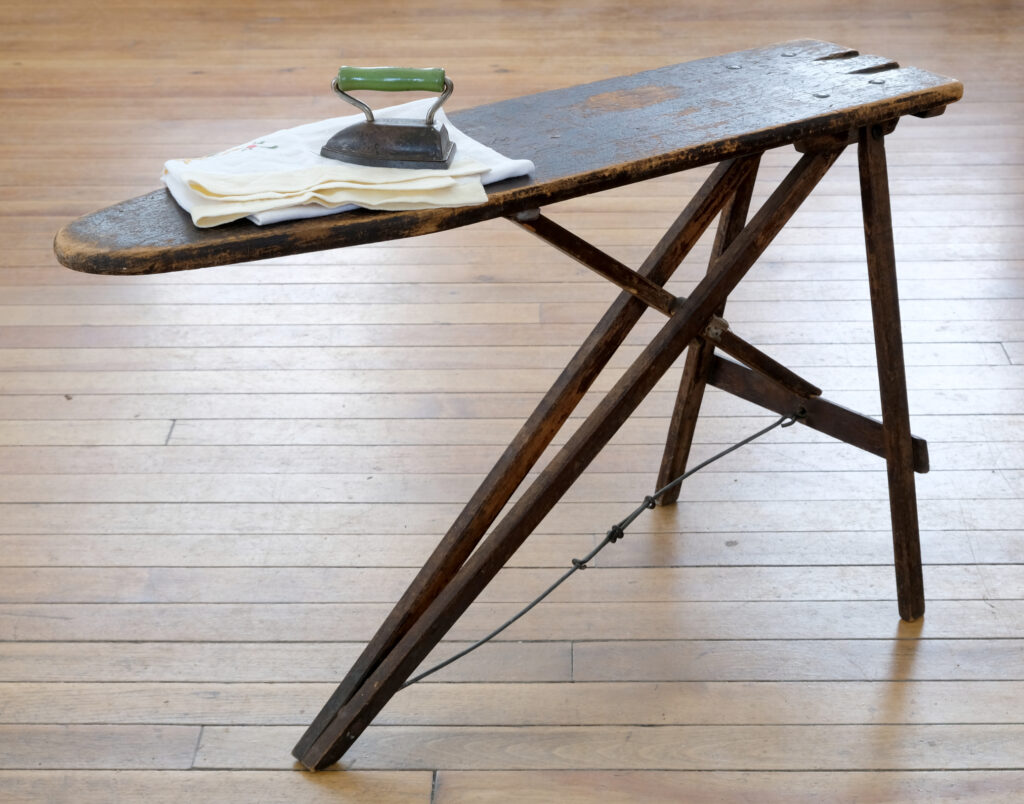 The South Frontenac Museum's collection of children's toys considers how toys are used, both historically and today, as an interactive learning and teaching tool. Small children are easily influenced through their interaction with toys – in the same way, children are influenced by the people they are surrounded with throughout their childhood. This small ironing board toy, designed to replicate an adult-sized one, would be a tool used to teach young girls about their expected responsibilities once they reached adulthood.
The roles of women in the labour force were ever-changing. Pre-dating WWI and WWII, 19th and early 20th Century Canadian women had very limited opportunities when it came to work outside their home. In rural areas, daily duties consisted of maintaining the household, assisting in tending the farm and caring for children who were too young to work themselves. In their preparation for their role as homemakers and mothers, young girls were trained in these practices in their youth. Toys such as this ironing board allowed young girls to follow in the footsteps of their Mother, falling into the pre-determined gender roles in early Canadian society.
Ironing and laundering are unique domestic chores because of their long-established presence in many cultures – everyone needs clean clothes! Early forms of laundering in the Middle Ages made use of natural resources, such as rivers, streams and rocks to wash clothes as thoroughly as possible. Often, several women would gather together and wash, making laundry a more socially oriented chore. As technology started to improve and people became more inventive with their washing methods (such as through the invention of the washtub in the 1700s), laundry became increasingly private – a washing machine could be bought and placed in someone's home and a family did not have to rely on a public laundry outing.
Similarly, ironing has a deep-rooted and extensive history, one that could be traced back to at least 12th Century China. Predating the modernized iron was the pan iron, simply a pan filled with hot coals or rocks, pressed over stretched cloth. As blacksmithing emerged as a trade, laundresses and homemakers began to use simple forged irons, resembling the miniature one replicated in the toy set. Today, irons are much more advanced, with heat control and a steam function. Our modernized iron and folding ironing table was patented by Sarah Boone in the year 1892.
Despite the technological changes made with laundering and ironing over time, one thing remained the same: women were the sole labourers responsible for this task. As the labour industry developed after the World Wars and women demanded more engagement in paying jobs, Canada would see an increase of women as paid launderers, owners of laundromats and other domestic chores that could become profitable.
As is the case with many rural communities, old-school traditions and the separate roles of men and women remained a part of societal norms for longer than in urbanized communities. For families that owned farms, such as many those who would have lived (and continue to live in South Frontenac), the responsibility of the Mother and young daughters was to make sure the home was looked after, while the boys and men tended to the farm. Toys, such as this mock-ironing board, would have helped the Mother teach her young girls about their future responsibilities, while keeping the child occupied so she could focus on her other household duties.
For More Information:
https://www.thecanadianencyclopedia.ca/en/article/women-in-the-labour-force
http://www.oldandinteresting.com/history-ironing-boards.aspx
http://www.oldandinteresting.com/history-washing-machines.aspx