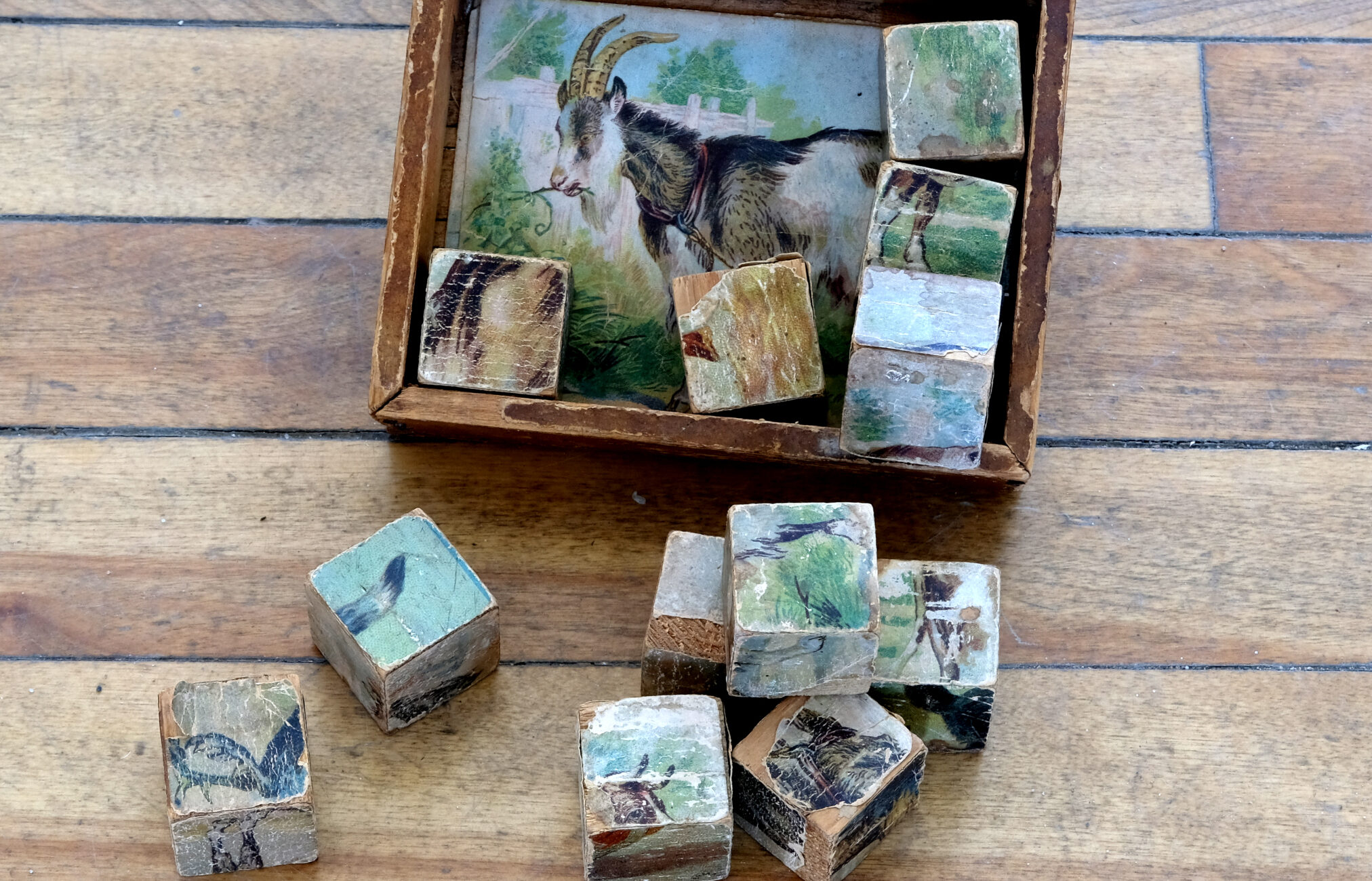 Before children learn to read and write, babies and toddlers must learn the very basics – fine motor skills, counting and understanding basic shapes and objects. Puzzles made from wooden blocks taught and challenged the littlest members of each family, teaching them the necessary skills of memory, brain exercise, how to use their hands and maneuver items, and more!
This wooden block set emerged from the 1880s in Victorian England. Although the paper on the blocks are well-worn and hard to discern, the images would form depictions of animals typical of the English countryside – a goat, a dog, a cat, a cow, a rooster and a horse. The child would use the image cards on the inside of the box to try to solve the puzzle, and when completed, all of the blocks would remain nicely contained within the box.
Many settlers in the South Frontenac region would have come from British descent. Bringing with them a toy from their former home or gifting a child wooden blocks when a family member came to visit would be a marker of their former heritage in their new land. The animals depicted on the blocks would also help children in rural communities identify the animals that they would likely be surrounded by on the farm. This toy would reflect aspects of everyday life that a child would grow accustomed to.
Well worn, the paper that contained the images on each wooden block was printed using the chemical process of chromolithography. This type of early printing in the late 1800s, reflective of the period such wooden block toys would be used. The image would be applied to stone, such as limestone or zinc, and then traced over, using a gum-like substance and nitric acid. This process could take even the most skilled workers months to produce. It is likely that this particular wood block set in the care of the South Frontenac Museum was very precious to and well-cared for by the family who owned it.
For more information:
https://www.chairish.com/product/1559136/antique-childs-wood-block-puzzle-set
https://www.puzzlewarehouse.com/history-of-puzzles/
https://cronicaspuzzleras.com/en/10-surprising-benefits-of-doing-jigsaw-puzzles/